There may be a seemingly multitude of options to choose from, however this guide on some of the most common splashback materials will help you select your ideal splashback.
Glass splashbacks are among the most popular choice of splashback, and for good reason. The toughened glass is easy to clean and its reflective surface will help to bounce light around the room, adding a touch of luxury. Glass splashbacks offer a more contemporary and streamlined look which can be seamlessly integrated into your kitchen. They are available in an almost unlimited range of colours, along with printed images. For something a little different you could consider an eye-catching material behind the glass to add some drama.
Pictured: Horncastle Homes Concept LivingTM Out of Africa showhome.
Showing: a clear glass splashback with a zebra print textured wallpaper behind, and LED strip lighting to highlight.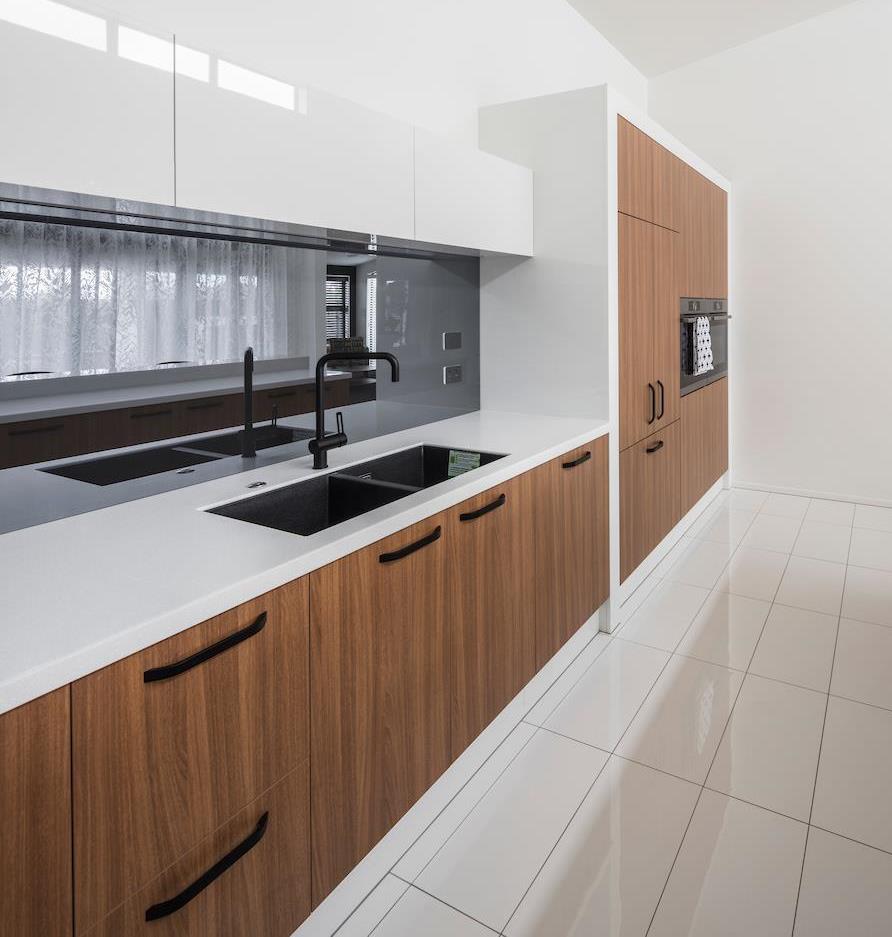 Mirrored glass splashbacks are another popular option, offering versatility, practicality and style. Its reflective surface bounces light around, helping to open up the kitchen space. The mirrored glass can also be a great way to add interest, and positioned opposite a window they can make the most of a view. Using a tint in either a silvery or bronze colour can make this more appealing; consider adding an antique finish for a more ornate mirrored look.
Pictured: Horncastle Homes Concept LivingTM Nordic Showhome.
Showing: a mirrored glass splashback with a grey tint.
Tiled splashbacks are available in a variety of colours, materials, and patterns. Your choice of tile combination should enhance the overall style of your kitchen, helping to tie your kitchen design and colour scheme together. Choose colours that are similar tones to your benchtop for a more consistent overall look, or contrasting if you want to add interest. Despite the fact that that most trends come and go, subway tiles are a great choice if you are looking for something that has a timeless quality. A grout colour that contrasts looks more modern and edgy, whereas matching the grout and tile colour gives a classic and understated feel.
Pictured: Horncastle Homes Concept LivingTM Oxford Showhome.
Showing: a texture-finish soft white gloss tile 75×150 in a horizontal straight stack pattern.
Window splashbacks are an ideal way to showcase your view. They bring natural light directly into your kitchen, brighten your work area during the day, and enhance the sense of space. In addition to this, opening splashback windows provide for extra ventilation and air flow. Windows installed to run along your kitchen bench create a seamless connection between your kitchen and outdoor entertaining area when open.
Pictured: Horncastle Homes Concept LivingTM Kiwiana Showhome.
https://www.horncastle.co.nz/wp-content/uploads/2016/10/Open-Home-Banner3.jpg
1000
2000
kate
https://www.horncastle.co.nz/wp-content/uploads/2016/10/logo.png
kate
2017-03-22 11:05:12
2017-05-25 10:04:25
Choosing the right splashback for your kitchen.