Frequently Asked Questions
Below we have compiled a list of questions we are frequently asked. If you have any other questions please contact us.
When does the building start?
Once the Building consent has been issued and builder allocated, construction starts shortly after that.
When does the house handover?
Approximately 2 weeks into construction the builder forwards us a program, we then advise the client of the estimated completion. This completion date can be confirmed 1 month before the actual handover.
What happens at the handover?
It really couldn't be simpler. A Horncastle Homes representative meets you at your new home. They walk you through, go over all the warranties and guarantees on any appliances you have in the home and of course, hand over the keys to your dream home.
Do you offer a Master Build Guarantee?
Yes, all Horncastle Homes come with a 10 year Master Build Guarantee.
Do you have information on Horncastle Homes building process?
Yes we do, click here to view.
Do you have a maintenance guarantee?
All our homes carry a 1 year maintenance guarantee in accordance to the Building Act. If you have any issues with your new home we will have them fixed within the month. We employ a person whose role it is to inspect new homes and arrange for maintenance to be done if needed.
What quality control systems do you have in place?
The Horncastle difference is that we employ an external company called "Quality First" who only inspect our homes to ensure we build the best houses in town. Plus every project is appointed an internal project manager who inspects all our homes for quality of workmanship. The City Council also inspects all homes during construction to ensure that the home is being built according to council regulations.
Need Inspiration?
View our ideas galleries
A building company

you can rely on.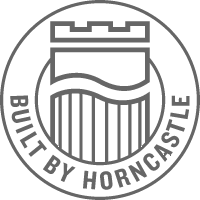 It's the combination of detailed planning, good construction methods and materials, and quality workmanship from beginning to end. We limit the number of homes we build each year, so we're able to put the required care and attention into each one.
Bill Horncastle
Managing Director
Sign up to receive updates from Horncastle