Horncastle Home Maintenance
We extend the same standard of care to our rental properties that we deliver in our newly completed homes.
Our Home Maintenance team will complete any required repairs to the highest standard, ensuring your investment stays in the best condition.
You can be confident in the quality of any repairs to your investment as we use experienced, qualified tradespeople who are known for their quality workmanship. Our long established relationships ensure that those repairs are undertaken in a cost-effective and prompt manner.
All properties, tenanted or not, are expected to need maintenance or repairs due to fair wear and tear sometime in the future. We'll also recommend any maintenance to you, we feel may be necessary to ensure that your property continues to achieve maximum rental, attract quality tenants and protect the value of your investment. We will contact you with these recommendations.
If the repair is serious or urgent we will carry out the required maintenance immediately.
When you choose Horncastle Property Management you can trust that all the details will be taken care of. Because if there's one thing we've learnt over the last 15 years, it's that the little things are the big things, both in life and property investment.
A building company

you can rely on.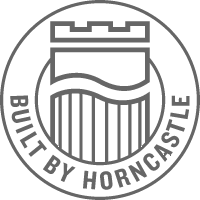 It's the combination of detailed planning, good construction methods and materials, and quality workmanship from beginning to end. We limit the number of homes we build each year, so we're able to put the required care and attention into each one.
Bill Horncastle
Managing Director
Sign up to receive updates from Horncastle